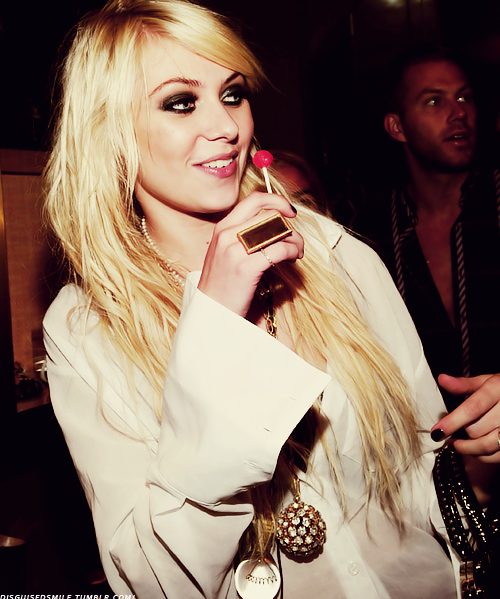 \
"My music takes a new focus now. I have experienced so much since I wrote my last album, and want to fill my music with all of my new experience. I have traveled so much more and have met interesting individuals. I do things differently."
I really like Taylor Momsen, even if now she had changed her style and her life in general. However, the photos below are from 2011 or something but that was the period of time when I enjoyed her way to be.
In the present, she is not like this anymore, she dressed a little bit strange and almost nobody would follow her style and dress like her. The good things is that she and her band, The Pretty Reckless, are still releasing good songs. As you`d probably guessed I`ve search on the internet some interviews where she describes her life and her style, well let`s have a look :
Taylor Momsen has defined her style pretty well for a girl who will turn just 17 in five days. It's easy to list her likes, her style signatures: underwear as outerwear, tiny dresses, eyeliner, dark lipstick, messy hair, eyeliner, and mascara and more mascara. But she tells MTV Style in new video interviews that describing her style is "the hardest question to answer." She says later, "I think firing my stylist has allowed me to be more free. I was getting molded into this thing that wasn't who I am." She explains that she dresses for herself — not to be provocative — and looks at dressing her body like dressing her doll collection.
Hmm, she dresses like her doll collection? It`s a little bit weird and I have to say that now she changed her style into something not so great.
Lots of young girls go through a provocative phase, wanting to show off their hot bodies, saying it's something they do for themselves as though walking around in garters, a T-shirt, and no pants is akin to going to the spa. But it's not like going to the spa, especially when you're a young woman who is photographed all the time and will be copied by the youth of America. Taylor's a great-looking girl, she's successfully made herself edgy, but she could still look great and be edgy without performing in her underwear and clear heels filled with money. Just because Beyoncé told 60 Minutes she thinks performing nearly naked is empowering, doesn't mean it is.
Right now, Taylor is showing too much and

I think is trying to prove something that doesn`t define her very well ( if you look at the photos below , her old style was pretty good).
The change in appearance, showing an edgier persona with darker makeup, clothes and accessories, may have been shocking to those who don't really know her, but the shift was in fact a brave step—a step towards letting others see the real Taylor.
So, who is that girl, really? Believe it or not, Taylor is fairly introverted in real life. "In personal situations I'm very, very shy," she tells me. "As much as you may see a person in an interview or on a carpet, you never really know that person. I'm human: of course I'm insecure."
Well I don`t know about her shyness because dressing like that and showing some "I don`t care attitude" you need to have a little courage. However she has an awkward personality and I think there are a few people who really got to know her.
For Taylor, it was all about confidence and finding that right path which would allow her to grow both sides of herself, the outgoing side and the shy side. "I found writing and music. That's where I am able to be honest and open about everything," she says. "Find something you love and then go for it. Don't be afraid to take risks. Go for what you want to achieve in your life and don't be afraid of what people are going to say about it."
For Taylor, looking forward is the most important thing to focus on. "No regrets," she says. "I like where I am right now and I just keep pushing forward."
Now let`s take a look on her style and there you go some articles that I found interesting :
Taylor Momsen usually leans towards a more rebellious fashion style, one that suits her personality perfectly and enhances her sex appeal. A girl with an incredible sense of fashion despite her age, Taylor manages to capture all the attention. Messy hairstyles with a rebellious pop rock attire are Taylor Momsen's most preferred fashion choices. Skinny jeans, leather jackets, leggings, boots and cute tops gorgeously combined work beautifully and enhance Taylor Momsen's fashion style.
Accessories are very important when it comes to defining and completing a fashion style and it seems that Taylor's unique and complex fashion style doesn't need too many accessories. She already developed a sophisticated fashion style, so she tries to keep her accessories minimal. Scarves, long necklaces and cute bracelets are the accessories most often used by Taylor to complete her outfits.
Feminine, stylish and trendy, Taylor Momsen's fashion style is without any doubt worth copycatting.
Now let`s comment : Taylor Momsen is not like this anymore; if you look over the autumn-winter 2012 photos with Taylor you will observe a huge difference between the old style and the new one. And I have to say it : I don`t really like it. She tries to be someone else but
apparently she tries too much. However the old style , in my opinion, is awesome and I think she should come back to it. I hope you like this post and I`ll promise the next time I`ll write something more interesting and more catchy.
hope you have a lovely week!
© Clara.