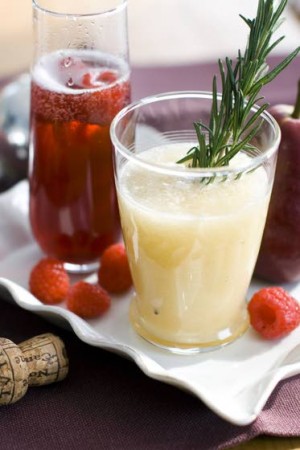 A Rudolph's nose, left, and a Chilly Pear Tree are two light but festive cocktails that can be served during Christmas brunch.
Sharing the holiday with other people, and feeling that you're giving of yourself, gets you past all the commercialism.
- Caroline Kennedy
A perpetual holiday is a good working definition of hell.



Today is Christmas Eve I am so happy and full of joy! First of all I want to say that I`m so surprised about the things I found over the internet. Since I woke-up I wanted to write an blog post about Christmas and, however, the atmosphere that makes us feel happier.
I prepared for you some subjects that I want to talk about, like unusual drinks , food and traditions ( you know me, I want to bring up the most strange things that are happening in our little world ).
What can I say? The world has the most strange and unusual things as traditions, which I find very interesting ( of course I won`t try every little thing because I can think and realize which is ok to try and which is not). Surprisingly there are many people who try those things and find them the best ways to celebrate this awesome part of the year.
First of all, let`s start with the Christmas traditions :
Japan
For many Japanese, traditional Christmas dinner is Kentucky Fried Chicken. It is so popular and well marketed that reservations may have to be made to eat at a KFC on Christmas in Japan.
I am wondering if the whole population of Japanese people is obese. I image a beautiful family making reservations at KFC 4 months before ( this is the most insane thing I`ve ever heard, and now we know the reason why KFC does not go bankrupt )
Surfing Santa, Dec. 8
A bearded man in a Hawaiian shirt surfs onto Waikiki Beach in Honolulu and settles in a hotel lobby to hear children's wishes.
Although is unusual for us ( you know, freezing weather, cold, a lot of snow, things like that) I think it would be fun to do that, I mean why not take advantage of that great weather ( and now I remembered that is cold outside and how much I have winter ).
Now let`s talk about the drinks ( my favorite part ) :
He advises keeping the drinks light since there's heavy food and sweets in abundance. Champagne cocktails with a touch of cognac, calvados or American brandy can give you the flavor of those wintery spirits at an alcohol content that won't end your day too early. ( like an advise for all of you, and the man who advises us is the

owner of The Hawthorne bar in Boston

)
One drink he likes is yule tide bulles (French for bubbles), which is one part cognac, one part Benedictine, one part fresh lemon juice, one part grenadine and one part cool filtered water.
This one looks great and I think it tastes the same!
Executive chef jW Foster, who is Canadian, has introduced Inniskillin icewine, a dessert wine made from grapes that have been frozen on the vine, that is made in the Niagara Peninsula winegrowing region. The wine can be served straight or mixed with vodka for an easy martini.
Despite the strange name which I can`t pronounce, it doesn`t sound horrible at all, maybe I`ll try sometime this one .
For more recipes check-out the site ! (
link
)
Finally let`s see some special and weird Christmas food :
Porridge With Mushrooms (Czech Republic/ Slovakia)
The Feast of the Seven Fishes -

The meal is typically made up of all kinds of different seafood (not necessarily fish, despite the name) from cod to squid, mussels to eels. The salted form of cod that sometimes appears is particularly associated with the poverty stricken, while the desert is traditionally a very sugary bread, such as panatone.
Hallaca (Venezuela) - a mixture of meats and raisins wrapped in maize and then in a large, bound leaf. The unusual dish is typically cooked by boiling or steaming, and thought to originate from the time of slaves, when the assorted meat scraps would be handed out to the lowest level people and collected in this way.
However those dishes are strange and I would never try them , because I`ve seen some photos and that doesn`t look great at all. I prefer fast-food ( I know I will become as big as a cow but right now I don`t really care) and I enjoy a big burger than those things.
In the end I hope you enjoyed my post and that you had the patience to read all this , `cause I have to admit it, I wrote a lot. If I won`t post anything tomorrow I want to wish all of you a big, big "Merry Christmas" and I hope you`ll get all the presents you wanted ( and for the ones who doesn`t know , Santa doesn`t exit - yeah I said it)
hope you have a lovely week!
© Clara.